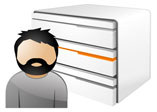 Managed Web Hosting
We offer fully managed web hosting for all VPS and Dedicated Servers orders that come with cPanel installed.
Managed hosting ideal for companies that don't have an internal IT staff, or want to free up their IT staff to focus on other tasks. Many companies are skeptical about turning the management & hosting of their servers over to a web hosting provider, but those who utilize managed hosting services are finding that IT outsourcing can save money and time while letting them focus on core business initiatives.
HostDime offers managed services on their entire product line of linux servers with cPanel installed. It is important to stress the fact that we offer managed servers. Many companies out there offer servers but fail to notify the client of
the unmanaged server they will be buying. Selling an unmanaged server greatly reduces the overhead cost of a dedicated server provider!
For those who offer managed servers, it is important to try and clarify exactly what is covered under managed services. We will try to outline what we cover. This outline is not concrete as many times clients need different things and we will try our best to accommodate those needs.
Kernel Upgrades, OS patches
Backups and restoration help if needed (only on servers with 2 or more drives)
Cpanel/whm Updates
PHP updates
Mysql updates
System pre installed services updates. ( we do not update 3rd party scripts installed)
WHM/Cpanel assistance includes but not limited to, creating, deleting, setting up, email and dns
PHP compilation
MySQL optimization
SSL configuration and installation when purchased through HostDime
Custom DNS configuration
Email troubleshooting
FTP troubleshooting
High Server Load troubleshooting
Best Effort Third Party Application Support
Hardware Replacement SLA 2-6 hours
Compromised Server Recovery
Software Firewall Installation and Configuration
Failed Drive service restoration, we will assist in restoring of all accounts to our ability
Database corruption assistance
Assistance with system alerts or warnings
Hands on help with preinstall system settings
High Bandwidth consultation needs
Server upgrading assistance and guidance so you're not left behind.
With such a broad range of services we give please be advise the list above is only a guidance to the many services which are included with our servers. We will provide any level of help within reason to the best of our ability.
Note: Custom Script installations are not covered by our managed services. Such installations which have an approx. time of more then 30 minutes of admin time to be installed will be required to be given a install quote prior to being done. You are then free to reject or accept the installation quote. Please contact us if in doubt.