Intelligent Managed Dedicated Server Solutions
Our brand new Managed Dedicated Server line offers the newest Intel CPU's with integrated IPMI functionality.
Our newest Managed Dedicated Server line now offers Intel's newest CPU's and latest technologies (IPMI) at competitive market rates! The new lineup features newer powerful processor technology and advanced functionality that can't be found in older server models.*
What does this mean for you?
For starters, the new CPU models are top of the line. The Core i3, i5 and i7 processors, along with the extremely powerful Hexa-core (6 cores per cpu) Xeon series, are sure to give your server a boost in performance. The new processors are more economical and less power hungry, which ultimately means you're getting more processing power for a smaller price tag.
Secondly, each of our new server models features Intelligent Platform Management Interface (IPMI) at no additional charge! (All of our competition charges extra for this technology, don't be oversold!)
Under the server cover
The Intelligent Platform Management Interface (IPMI) provides a standard way to monitor servers regardless of platform.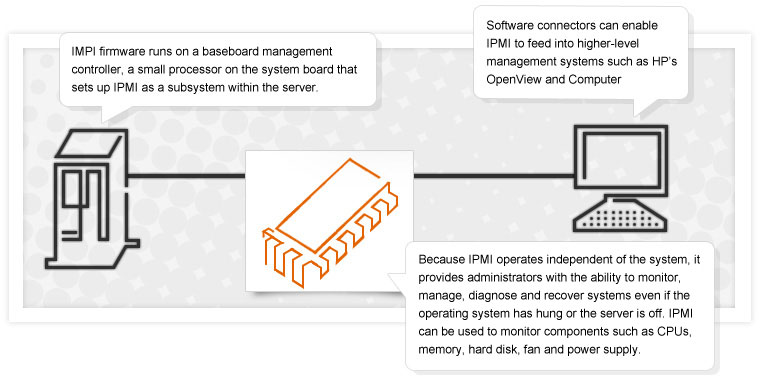 What's IPMI?
IPMI: An agent-less approach to better server management, a piece of hardware that is integrated directly into the server's motherboard and your client portal CORE. It enables dedicated KVM over IP functionality and full remote reboot capability over IP on your server. You will now be able to remotely reboot their machine or KVM on the fly in CORE (Client portal), from anywhere in the world, and on demand without the need to contact us.
In addition to remote reboot functionality, clients will also be able to remotely console their server using a VNC client that is directly integrated into each CORE profile. Best of all because IPMI is an independent running system even if the server is down due to overload you are still able to access IPMI to access KVM or even reboot it.
IPMI Benefits:
Built into CORE for easy access/management
Remote reboot, power on/off instantly to avoid costly downtimes
Remote recovery capabilities (using the existing LAN connection) regardless of system state
Hardware health monitoring that aids predictive failure analysis
Independent of server, standalone, always available
Reduces Mean-Time-To-Repair (MTTR) by allowing 'diagnose-before-dispatch'
IPMI works with any OS
Dedicated KVM over IP on demand 24x7
Lowers your management costs as it's free with all our servers!
HostDime is continuously committed to offering intelligent managed dedicated server solutions by offering the latest and most power CPU offerings along with the latest technologies such as IPMI. We realize that hands on demand tools is the key to management efficiency and this is the reason we decided to offer all our servers with IPMI for FREE!
Should you have any questions about our new hardware line, would like to sign up for a new server, or simply upgrade an old one, please don't hesitate to contact us either over live chat or our toll free number.
*Only applies to new server orders, does not apply to older server models that may be currently in use.